The other day in water aerobics a fellow regular was passing out fliers and asking we post them and try to get the word out for a local charity. When she handed me one I told her I would try and do one better, given that it is summer there aren't as many people in my building and I'm not sure how many pay attention to the bulletin boards I told her I would write a blog post about it. I took the flier home with me and then went on the website listed, which led to a journal and I got to know a bit about this lovely family:
Don't they look nice? That picture was taken last summer when they went to Colorado, they had no idea that a year later they would be in a very different situation. This spring their sweet little Jaclyn, the one in the middle, started complaining about her eye. At first it seemed like it something minor and then they got a diagnosis that no parent wants to hear, their baby girl has
retinoblastoma
, cancer of the eye. They had to remove her right eye and unfortunately discovered that the cancer has spread and so she now is undergoing chemotherapy, she is only three and a half years old.
Her first new eye, it has a little flower "tattoo" on the top because she wanted a pink eye, they compromised ;).
Given that this state is predominantly rural and the severity of Jaclyn's cancer they have to travel somewhat far for her treatments and to get her prosthetic eye. They thankfully have insurance but as everyone knows that does not cover every expense that they have related to getting Jaclyn the care she needs. As a result their family and friends are putting on a benefit next month to try and earn money to help them cover those extra costs. Anyone in central Iowa is invited to attend the event, it is on August 15, 2009 in Gilbert, IA from 5-7pm. They are also selling "Fight Like a Girl" clothing & merchandise and people can send monetary donations, for more details here is the
benefit's website
. **They recently added an online donation option, just scroll down to the bottom of the page and you can't miss it =)**
Jaclyn being totally adorable!
Please consider helping this family, whether it be through buying a shirt, attending the benefit, sending a donation or simply just keeping them in your thoughts and prayers. Any help in spreading the word is greatly appreciated, I have badges (see image below) that you can put in your sidebar, e-mail me at microblogologist@yahoo.com and I'll send you the code (let me know if you have one or two sidebars as the sizing is different). Also I would be thrilled and honored if any of you were willing to have this as a guest post on your blog. I will make sure all supportive comments get forwarded to Jaclyn's parents. Thank you so much for taking the time to read this post and for anything you do to help this family =)!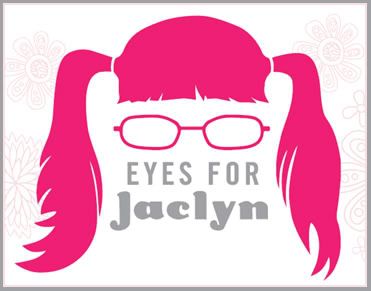 Note: All pictures are the property of Brenda and Leo Gessner and used with permission. The Eyes for Jaclyn graphic was made by Jaclyn's uncle, I just added the border and code.